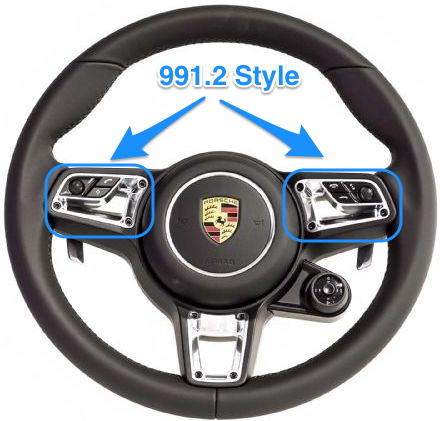 Adapter-X
Original price
$0.00
-
Original price
$0.00
Please send us old and new steering wheel photos to info@gpsadapter.us before ordering so we can help confirm which adapter and parts are needed.
Adapter-X adds mode switch control mechanisms.
The Adapter-X supports both Multifunction and MODE SWITCH retrofit, with a built-in Low-Power Bluetooth chipset and a program running on an STM8 Automobile level MCU controller. The program in the Adapter-X keeps the Mode Switch and center console buttons synchronized and maintains a Bluetooth communication heartbeat.
Adapter-B is set as the Slave mode, Adapter-A as the Master mode, and the Slave side Bluetooth MAC address is fixed in the Master side. When powered up, the Bluetooth connection is established in 3-4 seconds, and the mobile phone cannot find and connect to it. The Adapter-X is designed as an auxiliary control drive mode, providing more driving pleasure.
Adapter-X Mode Switch Support Model:
Carrera 991.1

  (

2012-2016)
Cayman

 981.1 (

2014-2016)
Boxster 981     (2012-2016)
Cayenne 958.1 (2011-2015)
MODE SWITCH Operation Chart:
Mode

991.1/981

991.1 GT3

958.1

O

Normal

Normal

Suspension Comfort

S

Sport ON

Suspension Sport ON

Suspension Sport

S+

Sport Plus ON

S to S+: Suspension Sport + PDK Sport

i to S+:PSE + PDK Sport

Sport + Suspension Sport

i

PSE ON

PSE ON

Suspension Normal

Response Button

20 Seconds Sport Plus

20 Seconds PDK Sport

20 Seconds Sport
Adapter-X Project blog post
Installation and coding guide here
**An update to the 971 Panamera style new wheel requires the replacement of the whole wire harness of the new wheel, which ships with adapter kits for the 971 style steering wheel. The wire harness parts number is #95B-971-388-B, as shown in the photo below.
**The Adapter-X default includes multifunction fit to the new MF steering wheel.
**If the center console module buttons or mode switch do not respond, disconnecting the adapter-b input side to power off the adapter-b, then reconnecting it to restart the adapter-b, can resolve this problem.
We offer free shipping worldwide with DHL/Fedex's "EXPRESS WORLDWIDE" service and you will receive a tracking code when shipped
*Customers may need to pay their local import duties.
Is this too confusing? If it is, please email(info@gpsadapter.us) or messenger us. Include a good photo of your old and favorite new steering wheel. We will be happy to help.